Do you spend your days wishing you'd started acting sooner? Wondering if you've missed the boat? Or perhaps you've been acting for years and are feeling frustrated that you haven't made it big yet. Sound like you? Well, don't worry! You are not alone, and our advice to you is to never give up on your dreams.
Acting is a marathon, not a sprint
I'm sure you've heard the saying, 'its not a sprint, its a marathon'. Well, this couldn't be truer when it comes to acting. Becoming a recognised working actor doesn't just happen overnight. In fact, you might be surprised to know that there are many major Hollywood names who were late bloomers in the industry. So if you're feeling like it's not worth giving it a shot, or that you're ready to give up and walk away from it all, take a lesson from these guys and keep aiming for the stars…
Naomi Watts
Despite working as an actress throughout the 90s, appearing in commercials and a few sitcom episodes, Naomi Watts didn't get her big break until she was 31 when she was cast in David Lynch's 'Mulholland Drive'.
Since then her career choices have gathered even more critical acclaim with starring roles in German director Michael Haneke's American remake of his thriller Funny Games (2007), David Cronenberg's Eastern Promises (2007), and the action-thriller, The International (2009)
She has since been nominated for 2 Oscars, 1 Golden Globe and a BAFTA!
Christoph Waltz
Christoph Waltz began his acting career as a stage actor, performing at theatres and festivals across Europe.
Although he went on to star in a number of small TV shows at home in Germany and in the UK, the reality was that he was a struggling actor trying to support his family.
It was only at the age of 51 that Christoph became a household name after being cast in Quentin Tarantino's Inglourious Basterds.
A role that won him several awards including an Oscar, BAFTA, and a Golden Globe to name just a few.
Samuel L. Jackson
Did you know that Samuel L. Jackson didn't always dream of being an actor?
He studied Marine Biology and Architecture before deciding that acting was where his heart was.
Like many actors, success did not come quickly or easily for Jackson.
He spent years working in stage plays and taking on minor roles in films before getting his breakthrough at 45 in Quentin Tarantino's Pulp Fiction.
Alan Rickman
Giving up his successful career as a Graphic Designer, Alan Rickman decided to pursue acting and attended the Royal Academy of Dramatic Arts at the age of 26.
Alan was a devoted theatre actor for over 10 years but decided that he wanted to take his acting to the big screen.
He was 46 when he got cast to star alongside major Hollywood movie star Bruce Willis in Die Hard.
His big screen success continued and he starred in some of the most successful movies of all time, including the Harry Potter franchise.
Alexander Skarsgård
Whilst at home in Sweden, Alexander Skarsgård picked up acting jobs wherever he could; be it stage or TV.
It was only at the age of 31 that he rose to fame when he was cast as Sergeant Brad 'Iceman' Colbert in HBO's miniseries Generation Kill.
Thanks to the writer's strike, after completing Genenrtion Kill (2008), he was cast in the role of "Eric Northman", a 1,000-year-old Viking vampire on the hit series, True Blood (2008).
He also had huge success with Big Little Lies and The Aftermath.
Steve Carrell
Here's a fun fact for you, Steve Carell was actually once a postman.
He quit after being told by his boss that he wasn't actually very good at it.
Thereafter Steve found his love of acting.
He toured with stage shows and starred in TV commercials, before hitting it big as Brick Tamland in Anchorman: The Legend of Ron Burgundy at 42.
He has since starred in a number of comedies including the US version of The Office.
Jenna Fischer
Before becoming part of TV's favourite love story, Jenna Fischer was a struggling actor working small jobs that barely covered her living expenses.
Her first paid role was in a sex education video for psychiatric patients (a far cry from the glamorous life she leads now!)
Instead of giving up on her dream, Jenna kept pushing and got her breakthrough role at 31 as Pam in the US version of The Office alongside Steve Carrell and John Krasinski.
She won a Screen Actors Guild Award for the role and was nominated for a Primetime Emmy award.
Bryan Cranston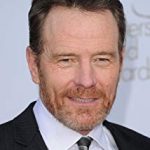 Now known worldwide as 'Heisenberg', Bryan Cranston worked hard to get to where he is today.
During the 80s he took on small roles and commercials and did some voiceover work.
His voiceover worked earned him $50 an hour for two or three hours of work a day. A small sum compared to what he earns now!
Although he had success and scored roles in some well-known TV shows & films, it really wasn't until Bryan was 44 and secured the role as the Dad in Malcolm in the Middle that he rose to fame.
He has gone on to win multiple awards including 2 Golden Globes, 2 Critics Choice Movie Awards, 6 Primetime Emmy's, 5 Screen Actors Guild Awards and a Tony Award! That's a lot of awards!
Ricky Gervais
Now everyone knows this guy!
Ricky Gervais is the perfect example of someone who won't take no for an answer. He is constantly creating his own projects that are leaving viewers in stitches.
This comedian turned director/writer/actor has been hard at work since the 90s, but it wasn't until he turned 40 that he had his big break with The Office.
Gervais has since won 7 BAFTA Awards, 5 British Comedy Awards, 2 Emmy's, 3 Golden Globes and now features in the Times 100 list of most influential people in the world.
Kathy Bates
Kathy Bates is now a household name worldwide, but she was unrecognised for a big part of  her acting career, actually over half of her acting career!
A huge theatre star, Kathy moved into film and at 42 she had her big break in the movie Misery, for which she won an Oscar. And she didn't stop there.
Kathy has starred in numerous films and TV shows since, including Titanic, Fried Green Tomatoes, American Horror Story, Revolutionary Road, The Blind Side and About Schmidt.
A two-time cancer survivor, she's showing no signs of slowing down any time soon!
There's no excuse! Start your acting career now!
If the Hollywood elite can do it, so can you! Check out our courses, many of which are designed to work around your busy lives and careers.